Mitsubishi Electric has extended its MELFA articulated arm and SCARA robot offering to include a range of delta robots. These combine Mitsubishi Electric's award-winning servo technology with the latest mechanicals from e-F@ctory Alliance partner Codian Robotics.
With Mitsubishi Electric already one of the world's largest suppliers of light payload industrial robots and Codian a market leader in delta mechanics it's a combination that enables the user to achieve reliable performance in higher speed pick and place operations, with the advantage of simple set-up and programming from one the markets main automation brands.
Codian Robotics has pioneered innovations in parallel kinematic (delta) robot technology and materials to produce one of the industry's broadest product ranges. The company has driven the use of materials such as carbon fibre, titanium and anodised aluminium, stainless steel and plastics delivering solutions that offer the optimum strength to weight ratio for any given application.
The lighter weight parts obviously benefit speed while the corrosion resistant options can meet the needs of more hygiene sensitive applications. The combination of Codian's interchangeable structural components with Mitsubishi Electric's highly developed servo motion packages provides users with a scalable solution that is easy and cost-effective to integrate with different formats of control platform.
Machine builders can choose to build a delta robot solution around either Mitsubishi Electric MELSEC PLCs or MELFA robot controllers.
Going down the PLC route means users can take advantage of the iQ Monozukuri Handling solution. This is a suite that combines Mitsubishi Electric iQ-R series PLC with servos, HMIs and a handling application package and control program. In this way, iQ Monozukuri Handling configures the mobility and functionality of the delta robot. This solution offers an economical and flexible system, as general automation components can be used and the delta robot control can be integrated with other parts of a given process.
On the other hand, machine builders can take advantage of Mitsubishi Electric's dedicated MELFA robot controllers and program the delta robot using the powerful Mitsubishi Electric RT-Toolbox software. This uses the same programming methodology as a traditional robot system, as it is the same platform tool used to program Mitsubishi Electric's ranges of articulated arm and SCARA robots.
Solutions can be based around the Codian D2 or D4 ranges of robots. D2 robots are offered in either two or three axes, with maximum speeds of 250 picks per minute, payloads up to 100kg and a maximum working envelope of 1500x430mm, depending on model. They are ideal for pick and place applications where high speed is required.
Where high performance pick and place needs to be combined with ultimate versatility, Codian D4 robots are offered in either three or four axes, with maximum speeds of 200 picks per minute, payloads up to 35kg and a working envelope of up to 1600x350mm.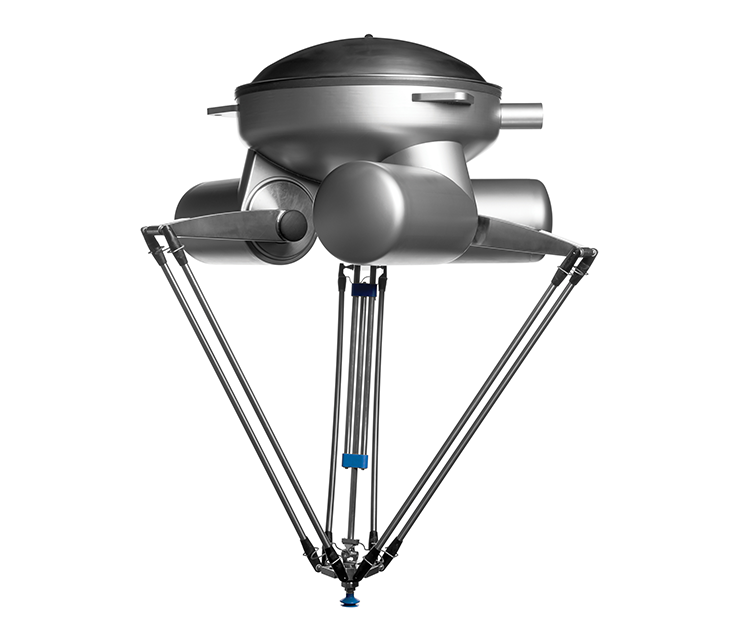 Mitsubishi Electric Robot Product Manager Barry Weller comments: "Codian Robotics has been a member of the Mitsubishi Electric e-F@ctory Alliance for several years and is an acknowledged market leader in the design and manufacture of this type of robot. The products are well developed, and the innovative parallel kinematic technology is a perfect match for the precision and performance of the Mitsubishi Electric range of servo drives and motors. Interest has already been strong, particularly from established Mitsubishi Electric automation users as the system integration aspect is so straight forward."
Delivering low total cost of ownership, these delta robot solutions offer low noise levels of below 68dB(A), ensuring a comfortable working environment. They are sealed to IP65 as standard, preventing ingress of dust and water and offering protection from low pressure water jets from any direction with an option for IP69K for use in Food and Beverage applications.