600 robots – over ten percent of all industrial robots in Finland – work in Valmet Automotive's factory in Uusikaupunki. Each year, more than 90,000 vehicles roll out of the building. The level of automation and engineering enables the manufacturer to be smarter, faster and use its robots more efficiently than its competitors.
One of Finland's best-known industrial towns, Uusikaupunki, is located approximately an hour's drive from Turku in the South of Finland. Each year, more than 90,000 vehicles roll out of a gigantic white building – at a rate few others can match.
«As you can see, this doesn't really look much like a car yet,» Timo Karhu says. The project manager is on the floor at one end of the Valmet Automotive factory. In front of him, long mechanical arms are working to produce the body of a car. The clang of metal-on-metal constantly resounds around the large building. More than 300 robots work here.
At another location in the factory, more than 200 robots are working to produce simultaneously another car model. The 600 robots in total working here account for as much as ten per cent of all the robots involved in industrial production throughout Finland. Karhu explains that they can handle capacity ranging from 16 kg to as much as 550 kg.
«The number of robots isn't really what matters. It's the level of automation that counts. We have to be smarter, faster and use our robots more efficiently than our competitors. If not, why on earth would our customers choose us?» Karhu asks, ushering us deeper into the factory.
Robots are really taking off
Valmet Automotive acquired its first robot in the early 1980s, but it is only in the last six years that the use of robots has really taken off.
Arto Iivanainen, Sales Director at Siemens, has been working closely with Valmet Automotive in connection with the supply of control systems, among other things. He attributes part of the success of Valmet Automotive to how they exploit digitalization. «Actually, I'd say they've set the world record over and over again when it comes to getting production up and running from scratch,» he says.
What do they do to get such good results? «First, they've shown that they know how to respond to market needs. Their production is unique in being more modular than anything else I've seen, and they're better at exploiting digitalization. Also, they supply good quality, which is of course one of the most important things of all,» Iivanainen says.
Robots and humans working side by side
Despite being in a market facing major international competition, this Nordic factory counts car manufacturers such as Porsche, Opel and Mercedes-Benz among its customer references. Because even though robots do much of the work, the 4,000 employees are living proof that human hands and heads are still very much needed.
How can one manufacture so efficiently in such a cost-intensive country as Finland? «Relatively speaking, we probably have roughly the same number of employees as other factories elsewhere in the world, so the answer is probably in the combination of good logistics, digitalization, automation and quick start-up of production,» Karhu says.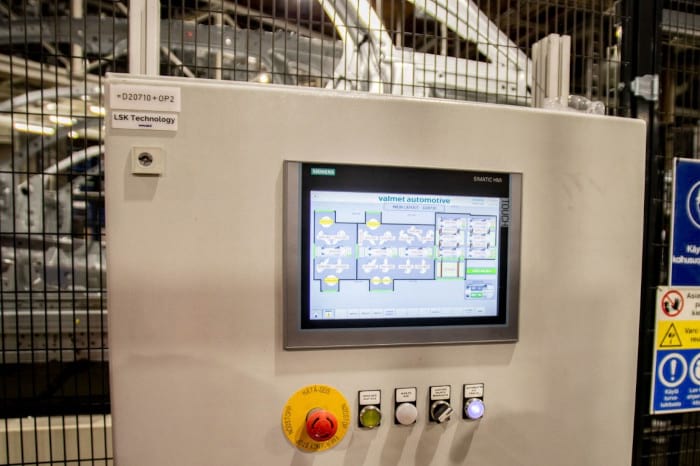 Solid engineering know-how
While many car factories comprise production only, Valmet Automotive also has a large number of engineers. Karhu believes that this, combined with more than 50 years' industry experience, gives them a solid understanding of the challenges that crop up along the way, which speeds up problem-solving.
He pauses at the user interface panel of the control system that is based on the TIA Portal. This integrates all the key components of the automation project: everything from process control, user interface and operation to motor control and decentralized external units. In addition, this boosts the plant's productivity through an array of diagnostic and energy management functions.
«Good monitoring is very important,» Karhu says. «If a small part of production stops, this can lead to major bottlenecks. It's vital to deal with things like that quickly; otherwise you lose time. And time is money.»
Faster construction through TIA Portal
Valmet Automotive adopted the Siemens system back in 2013 for regular use in setting up and programming the controllers of the type Simatic S7-1500. «We've seen this as a tool to reduce the time spent in the process construction phase. HMI panels of the type Comfort Panels and other user interface tools are used to drive processes in the production phase.»
Set up of production in 13 months
The entire production process for the largest robot population in Finland, from signing the order contract until production gets underway, took about 13 months.
«It's extremely important to our customer for us to be able to build cars quickly,» says Mikael Mäki, Communications Manager at Valmet Automotive. «In addition, we produce every single car to the customer's individual specifications. In other words, no two cars you see here are identical.»
Long robotic arms spray a car the right color; the engine is inserted, and soon the car is rolling out for inspection. But real human hands are required to check that everything is as it should be.