ABB is adding two new robot families to its portfolio of large robots for complex manufacturing applications. Delivering enhanced speed, accuracy, flexibility, and a more robust design including integrated process cabling, ABB's IRB 5710 and 5720 robots deliver increased productivity and enhanced performance with higher uptime for applications including electric vehicle (EV) manufacture, foundry, forging, rubber, plastics, and metal fabrication.
Available in eight variants, the IRB 5710 and IRB 5720 present a choice of options for payloads from 70kg to 180kg and reaches from 2.3m to 3m. Together, the two robot families are suitable for a wide range of production tasks including material handling and machine tending and assembly, as well as specific operations in EV manufacturing such as battery module picking and placing, high precision assembly, and parts handling. The benefits offered by the robots also make them ideal for use in plastic molding, metal casting, cleaning, and spraying applications.
"The switch from internal combustion engine (ICE) vehicles to EVs especially is driving increased demand for fast, adaptable production lines. EV designs can often be highly complex, and components such as batteries and semiconductor modules can be very heavy or extremely fragile. These demands call for solutions that can offer maximum precision and repeatability to avoid errors in production," Reger added.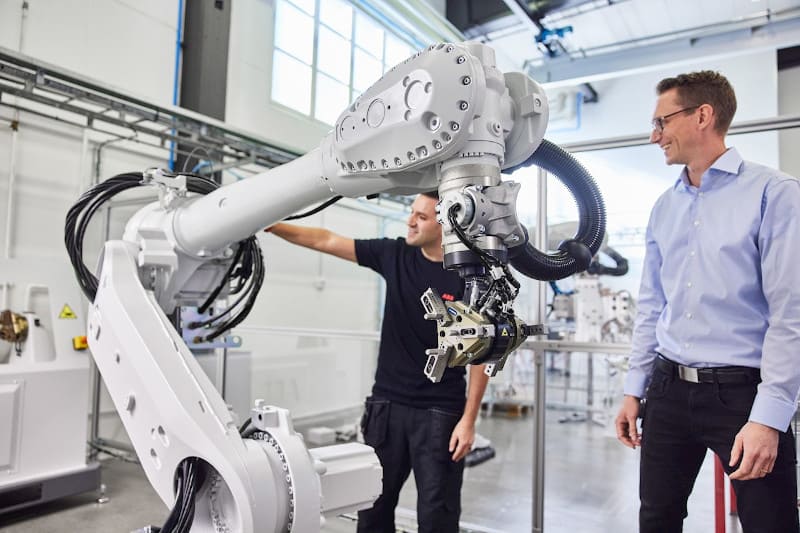 Both robot families are powered by ABB's new OmniCoreTM controller V250XT, the latest addition to the OmniCore controller family. Featuring ABB's TrueMove and QuickMove motion control technology, the OmniCore V250XT controller enables the IRB 5710 and IRB 5720 robots to offer class-leading speed, improving production capacity with lower manufacturing times. With their excellent position repeatability (0.04-0.05mm), path repeatability (0.1-0.14mm), and path accuracy (1-1.2 mm), the IRB 5710 and IRB 5720 are more accurate than other robots in their classes, enabling them to deliver the highest levels of manufacturing quality.
Further protection against damage and cable wear and tear is provided by ABB's LeanID Integrated DressPack, which enables process cables to be routed inside the robot's upper arm and along the wrist rather than externally. This eliminates swinging cables, protecting against heat and collisions, a common cause of robot maintenance issues, potentially reducing downtime and maintenance cost and extending the robots' service life by several years. LeanID also makes it easier to program and simulate with predictable cable movements in ABB's RobotStudio® offline programming software.
Both robot ranges have multiple mounting options, including floor, angled, inverted and semi-shelf for maximum production design flexibility.
More process applications such as welding, cutting, or dispensing will be released in 2023. For more information, visit IRB 5710 & IRB 5720 product pages below.