Output up, rejects down and quality assured: In battery cell production, the limited resources and simultaneously increasing demand pose a real challenge. How the sensor manufacturer SICK is supporting resource-saving manufacturing with its intelligent 3D camera solutions will be on display for visitors in Hall 8 Booth F-23 at this years The Battery Show Europe in Stuttgart.
By 2030 the majority of cars produced are expected to be electric. A true growth market for battery cell production. It is not surprising, then, that production capacity is growing. The predicted investments in battery cell production for Europe alone are four times as large in terms of production capacity than the global production volume in 2021. And further investments are being made in North America and the leading countries in Asia as well.
To cater for the growing demand on the one hand while also working in a resource-saving manner, battery producers would like to increase the output of their production lines and reduce the rate of reject parts. Higher throughputs mean higher machine and process speeds. This in turn increases the demands on the measurement precision of industrial image processing inspections systems. With its 3D machine vision offering, SICK is delivering solutions for inline testing that acquire precise measurement data even at high speeds.
Ranger3: Precision at increasing processing speeds
The Ranger3 3D vision camera masters the balancing act between high speeds and precise measurement results: 15.4 gigapixels per second at a resolution of 2560 x 832 pixels speaks for itself. This performance makes it possible to acquire accurate 3D data that can keep pace with the increasing speeds of production lines. 3D object measurement data can be generated regardless of colors, contrasts, the optical appearance of surfaces or the ambient brightness.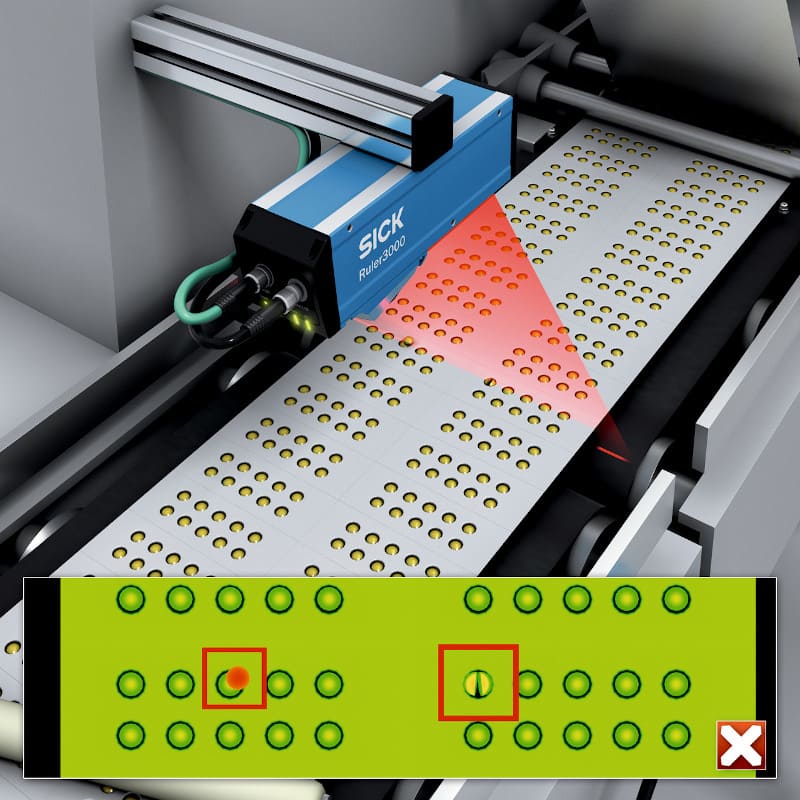 Ruler3000 solves high speed applications intelligently
The Ruler3000 product family combines the high performance Ranger3 streaming camera from SICK with an eye-safe class 2 laser, preselected optics, and fixed geometries for defined fields of view. This makes the camera easy to configure and allows faster commissioning. The complete flexibility of SICK's AppSpace software development platform with its broad range of image processing tools and application examples is available to developers for custom programming. This opens up for integrators a fast path to application-specific uses of this new high resolution 3D image processing technology from SICK.
Hardware and software tailored to individual requirements
SICK offers software solutions tailored to the hardware and to meet the specific needs of battery producers. "We have been working with large manufacturers and market leaders in the industry as well as equipment manufacturers for many years now," explains Philipp Mutz, Strategic Industry Manager at SICK AG. We have already demonstrated our expertise globally and employed our comprehensive portfolio in the industry."